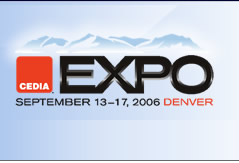 CEDIA EXPO 2006
Cool sites that likely sent you here that you should go back to for their respective experience...
Day 1 - September 14, 2006
This was the start of the first CEDIA Expo that I have attended in about half a dozen years. I remember the last one I went to being one that I whipped through in about a day and then got somewhat bored with things. Now, walking in the doors when they opened at 10:00AM and only spending a few minutes at most displays I covered half the showroom floor... Maybe.
Who cares - on with the cool stuff.
Projectors:
The two displays that I took a good look at (Sony tomorrow) were the Panasonic and InFocus displays.
Panasonic was showing in two rooms it's AX100 projector. If you don't know, this projector maintains a MSRP of $2999 and while it doesn't look a lot different than last years AE900 model, it does feature a boost in lumen output and a host of new internal guts that help to refine the final output. Perhaps one of the biggest things about this model was a switch by Panasonic from Philips lamps to Panasonic lamps. When queried, the Panasonic rep. said that Panasonic felt that they could produce a better overall lamp than Philips with higher quality control and an in-house attention to detail that they didn't have before. A nifty feature is a room light sensor that measures room ambient light and adjusts light output from the projector as light in the room changes. This means that if you want the projector brighter for game day with your buddies and have some lights on so you don't trip over each other, the projector will automatically recognize the extra light in the room and increase brightness accordingly. On the other hand, when you are in for the serious movie watching with all the lights out snuggled up with your life partner (of the moment), the projector will deliver the best possible light output for that environment. Sounds good to me.
Unexpectedly, Panasonic also showed their AE1000U projector. Yes folks, 1080p LCD is here.... almost. No working model was available to present at the show. What we had was a case that may, or may not, have actually had working guts inside of it. This projector is significantly larger than any other Panasonic home theater projector that I have seen to this point. I asked a couple of reps about it and these are the details that I got.
Specs show 1080p component video input acceptance... PS3? No listing for 1080p input acceptance on HDMI, but I would expect it.

December 2006 or shortly thereafter release - not firm or official, so don't scream if it is February or March before it is released.

MSRP: $X,000.00 No number given, but the statement was "Under $6,000.00" from one rep. and "How much would you pay?" from another... My response: "$5,000 MSRP if you want to compete with DLP." All rumors though, so it could be $20,000... yeah, right.

Very high quality lens on the projector to give maximum quality output from the projector. They were specific about the lack of any plastic elements in the glass assembly as the doubling of pixels from 720p to 1080p demands the best and that simply wasn't possible with some other lenses that utilized plastic components.

About 100% larger overall size than the AX100 projector that is similar in size to the AE900 and AE700 projectors
COOL: Took a video walk around of the projector - VIEW
What else did Panny have? A little disc player by the name of Blu-ray... I didn't take a photo, but will tomorrow. Bottom line: $1,300 and should be selling in TWO WEEKS! It was rumored for September release, and it seems to be accurate. Well... according to the rep. there. The player includes 7.1 analog audio outputs, but doesn't have HDMI 1.3. This player will not ship with all the hi-rez audio formats that Blu-ray supports, but the hardware on board does support that level of processing. Huh? In a nutshell, the player is firmware upgradeable and the player will have a coupon inside to send out for a firmware upgrade which will arrive on DVD. Put it in the player, and you've got your full support for all HD audio codecs. Nifty.
The final stuff I took a look at was the InFocus projectors which were about as uneventful of a display as I could hope to see. They had a demo room that including the IN78 projector. Yep! A new model from them that offers a grand total of about nothing new. It seems to be a very minor upgrade from the IN76 projector with a $4,500 MSRP. Increase the light, bit better blacks, and a big jump in price... meh. The other projector they demoed was the SP777 which is their 3-chip DLP model. It's a big projector, and it was shown on a 119" .8 gain Draper screen. Yes, it's only 720p, but it's a spectacular projector. If I had the money you better believe that I would ignore it completely and wait for 1080p. But, that's just me. I would still be jealous of anyone who had the 777 as it is very nice.
My quick walk through showed me the new Sony SXRD front projector, PS3 (not connected), the Sony Blu-ray player - being demoed. There was a 1080p projector from Marantz that caught my eye, but no details yet. There were a few new offerings from Crestron which I found interesting, but as a Crestron programmer, it may be a bit boring for others.
Short write up today folks! More, hopefully a good deal more, tomorrow.