AV Integrated is owned and operated by Paul Vail who has almost a decade of work in the high end residential and commercial installation, design, and development market for audio/visual systems. This includes homes in Potomac Maryland which feature over $500,000 worth of technology in the home as well as government command and control centers which cost more than a million dollars for a single room.
The basic home theater is smaller, but is still a major undertaking, and if your budget allows for an incredible $100,000 theater, or if it only affords you a few thousand dollar setup.
Can I see some photos?
SURE!
---
April 2006: Sterling, VA - Features a 100" Carada Criterion screen and a Sanyo Z4 projector. An Oppo Digital DVD player plus a high definition Tivo/DirecTV receiver provides the highest quality video possible over HDMI. Digital switching is provided by a 5x1 HDMI switcher which leaves plenty of room to grow. Audio is provided by Yamaha with Athena speakers.
(Photo up after project completion)
---
November 2005: Lorton, VA - Features a 100" custom built screen using a Panasonic AE-700U projector. Video is displayed from a Panasonic DVD player via HDMI and high definition video is piped down from their family room receiver over component video when football in HD is required. Audio is provided by a Pioneer receiver and Axiom speakers with a Definitive Technology subwoofer.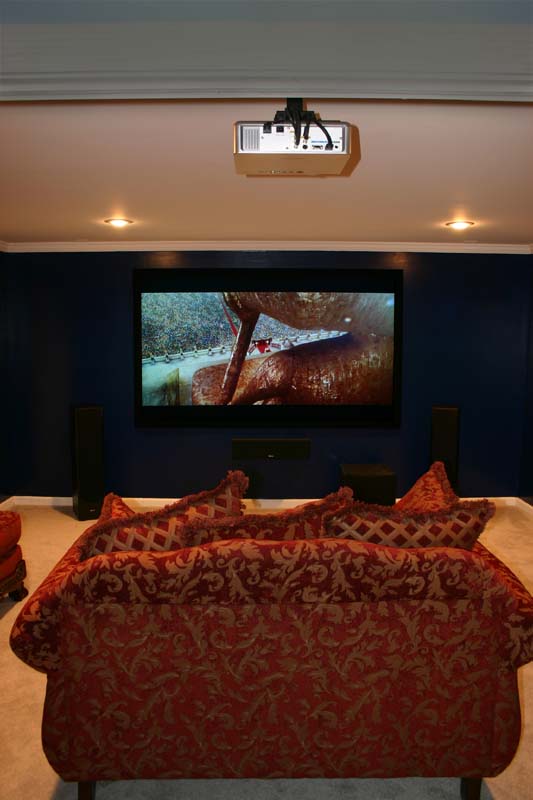 ---
January 2005 -> May 2006: Lorton, VA - A full blown distributed home A/V setup including 12 zones of audio distribution, a family room incorporating a Panasonic projector, a Sampo 50" plasma, and a DaLite 106" tab-tensioned electric screen with a Crestron control system. Middle Atlantic racks hold all the equipment and multiple amplifiers from Rotel and Sonance provide the audio out to rooms featuring Sonance speakers. The family room provides surround using Definitive Technology speakers in conjunction with a massive 18" Velodyne subwoofer. Crestron control allows one touch access to cable, a local DVD player, a 400 disc DVD changer, gaming, security cameras, XM radio, digital jukebox, and other advanced features including lighting, shades, and fireplace control. Keypads in every room of the home provide one touch local access to audio sources including the digital jukebox, cable music, FM radio, local DVD/CD player, and XM radio.
Screen down, Star Wars on, lights dimmed, enjoyment had by all.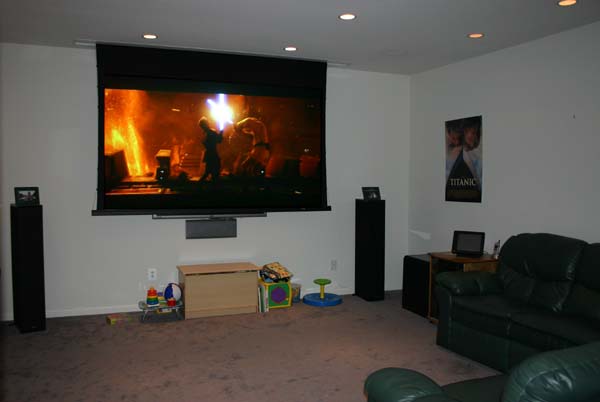 Screen up, plasma on, shades down, and fireplace on. Just relaxing with the family on the couch.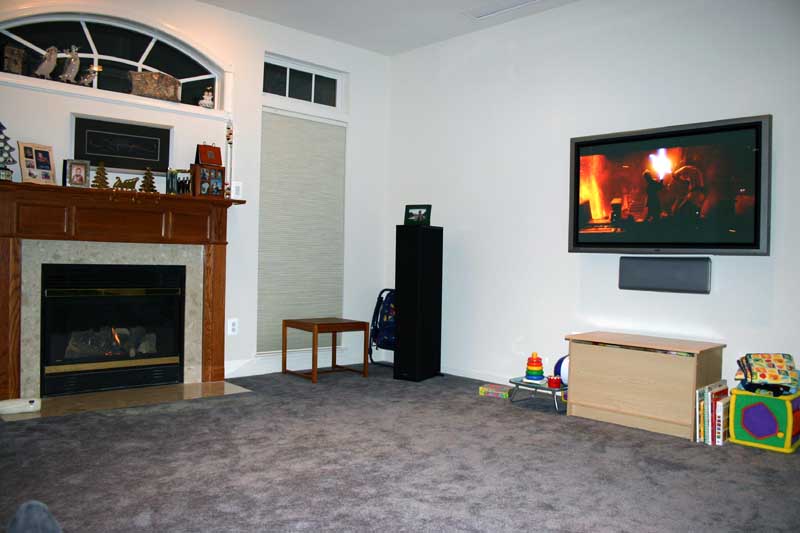 One button touch and the screen drops from the ceiling, yet disappears completely when done.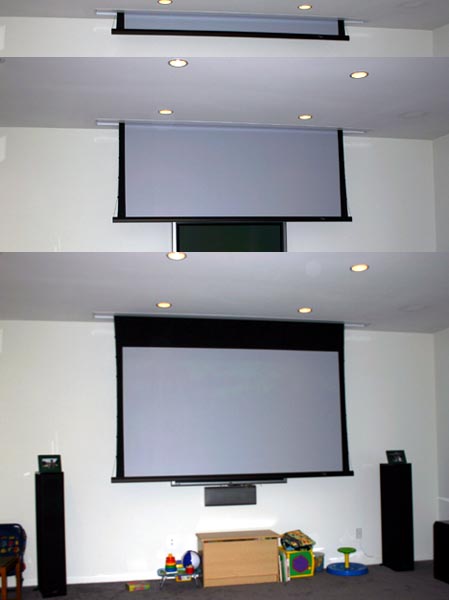 The touchpanel gives one touch access to almost every function in the room, or the entire home.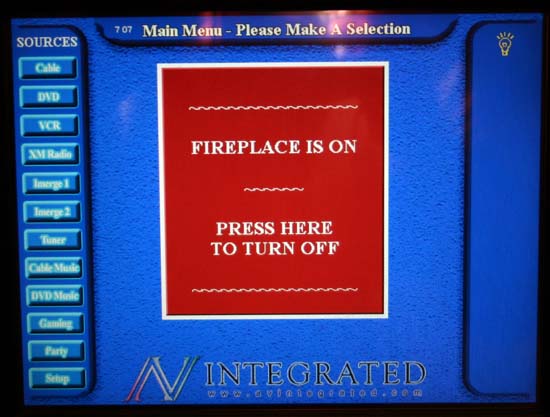 Middle Atlantic rack provides secure, solid storage for all system components away from 2 year olds hands.


12-button audio keypad in the same box with light switches to keep the look of the home beautiful.